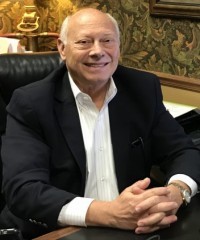 Craig T. Moon
CPIA, CIC, CLCS
After graduating from Middletown High in 1972 and completing his college education at Otterbein University in 1976, Craig Moon joined the family business, continuing in the 90 year 
tradition of his grandfather and father's legacy. 
Craig has earned his Certified Insurance Counselor (CIC), Certified Professional Insurance Agent (CPIA) and Commercial Lines Coverage Specialist (CLCS) designations. He currently serves on the State of Ohio Professional Insurance Association and Certified Insurance Counselor Committee.
In 2011 Craig received the prestigious, Community Service Award from the Professional Insurance Agents of Ohio. Along with his wife Melanie, the Moons are one of the founding families who organized the planning, fundraising and development of Safe Haven Farms. Safe Haven Farms is a farmstead community for adults with autism. The community was only the seventh of its kind in the United States at the time of its inception, and the second in the state of Ohio. Through his continued dedication to serve the community of the developmentally disabled, Craig served on the Board of Directors of the Butler County Board of Developmental Disabilities. Also he recently completed his term on the Board of Directors of Safe Haven Farms, Inc., a non-profit Charity.
Craig was named by Cincinnati Magazine 2010 thru 2016 to a short list of Ohio 5 Star professionals, providing exceptional service and satisfaction to their Commercial and Personal Lines clients.
Other honors include the 2010 Dan Fulwider Award for Community Involvement, in a ceremony held in Washington, D.C, by the National Association of Independent Insurance Agents/Trusted Choice, for his outstanding efforts in planning and developing Safe Haven Farms.
Also in 2010, Craig was honored to receive the Rough Notes Company Community Service Award, for his continued work with adults with developmental disabilities. 
Craig and his wife Melanie live in Middletown and are the parents of son Talbott, a fourth generation of the Moon Adrion team, and daughter, Adria. The Moons have been active members of Christ United Methodist Church for 34 years.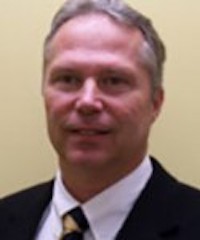 Bryan, our Sr. Vice President and CFO, is a second generation agent with Moon & Adrion. Following his graduation from Miami University in 1978 (BS in Business Administration), he joined his father, Joe, working in various capacities as he continued to rise to his current position. 
Bryan is a 1973 graduate of Madison High School and while at Miami became a member of the Sigma Alpha Epsilon Fraternity.
Bryan is a very active member of the St. Pauls United Church of Christ in Middletown. He is a regular volunteer in the Children's ministry program. In his free time he enjoys gardening and playing tennis. As an accomplished tennis player, at the 5.0 level, Bryan plays with area tennis pros at various interclub, state and national tournaments.
Bryan and his wife of 17 years, Suzy, are the proud parents of two beautiful daughters, Haley and Katy.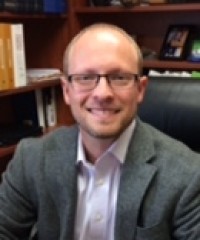 Talbott, a Middletown native, joined the Moon & Adrion Insurance Agency Inc, January 5, 2009. Tal is a 2000 graduate of Middletown High School and a 2004 graduate of Miami University, where he earned a Bachelor's Degree in Political Science. Tal is the fourth generation of the Moon Family to work in the Agency. He follows in the footsteps of his father, Craig, grandfather Thomas and great-grandfather Vernon, the founder of the Agency. Tal earned his Commercial Lines Coverage Specialist (CLCS) designation in 2009 and is currently pursuing his Certified Insurance Counselor (CIC) designation. Tal currently serves on the Board of Directors for the Chamber of Commerce serving Middletown, Monroe and Trenton, serves as a Board member for the Abilities First, serves on the Warren County Municipal League, is a board member for Supports to Encourage Low-Income Families (SELF) and is a member of Middletown City Council. He also serves on the Professional Independent Agents Association, Advocacy Committee. Previously employed by United States Representative John Boehner, Tal worked in Representative Boehner's offices in both Butler and Miami County.
While in high school Tal was a member of the Middletown "Middies" Baseball and Cross-Country teams. In his spare time he enjoys volunteering in the community, enjoying his wife and children and reading. Tal, his wife Saralyn and their two boys Jack and Ignatius, live in Middletown and attend The Oaks Community Church.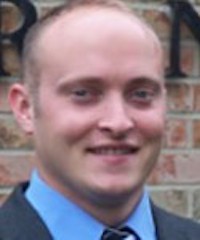 Kyle is the son of Pam and Rob Kilburn, a graduate of Monroe High School (Class of 2003) and Eastern Kentucky University (2007) with a Bachelors Degree in Insurance.Kyle is continuing to build upon his seven years part time experience and insurance knowledge by working towards becoming a Chartered Property Casualty Underwriter (CPCU). This is a designation held by very few agents. While in high school, Kyle participated in football and amateur rodeos, enjoys pleasure boating, fishing and four wheeling. He is a member of the Monroe United Methodist Church and is married to Sarah Mealey in May 2008. Kyle is a welcome addition to the Moon & Adrion team and is ready to assist you in your individual insurance needs.